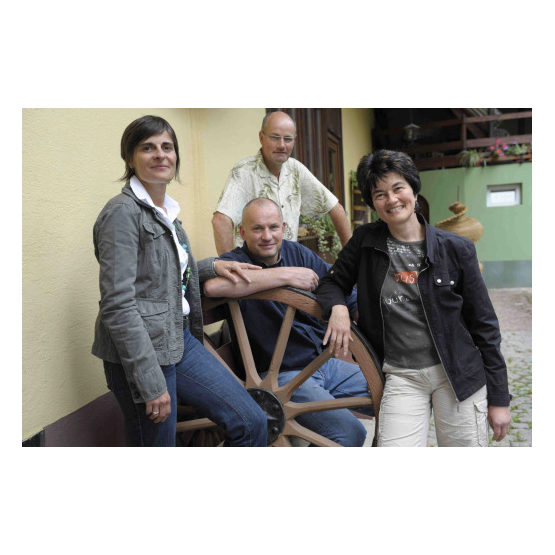 Domaine Albert Mann
The birth of Domaine Albert Mann is the fruit of the joint efforts of two big winemaker families, Mann and Barthelmé. Mann's are winegrowers since the beginning of the 17th century and Barthelmé's since 1654.
Today both brothers, Maurice and Jacky Barthelmé, with theirs wives, Marie-Claire and Marie-Thérèse, manage the family estate.
The estate is located in Wettolsheim, a small village in the heart of Alsace, 2 kms west of Colmar. It is the biggest wine village of the Haut Rhin by its exploited surface area.
Our vineyards cover an area of 21 hectares spread on 8 communes.The various landscapes in Alsace with mountains, hills and plains are due to the big variety of stone that constitute the subsoil.
 Silica brings vivacity.
Clay, absorbing the minerals, gives strength.
Limestone leads to richness and mellowness
Marl, colder soil, preserves acidity.
The soil and the vine are our capital. The wine-growers are themselves the basement, they have to continue and to valorise the work of their ancestors.
Our philosophy is to make a wine nourished by the elements of the soil and not by the fertilizers. Our estate wants to produce a wine in harmony with nature while realizing an agriculture whose finality is not to treat, but to strengthen the vitality of the soil.
 
The wine is the memory of the grape, it is able of passing on the taste of the terroir.
In order to express in the best way the originality of the location, we realize:
 
-          the replanting in visual selection of the most robust vine plants (selection of old plants) in order to maintain diversity
-          a natural plantation of grass every two rows; the other one is ploughed in order to assure a deep rooting. Some terraced lots are ploughed by horse.
-          a supply of compost in order to rouse the organic life of the soil that is necessary for the formation of the humus and for the assimilation of the minerals of the subsoil.
-          the controlled vigour that allows a short pruning and a vine which is less sensible to disease; therefore, five to seven annual treatments (the weakest in France) are sufficient
 
The grapes are gathered manually, at maturity of the skin and the pips, in order to respect the grape that will arrive in full in our pneumatic presses. A slow extraction allows us to get clear juice that doesn't need any supply of oenological products, with the exception of a small quantity of sulphur. After a fermentation of several months, the wines stay in contact with their lees that nourish them and that, at the same time, stabilize them naturally. The wines are bottled when we think that they are ready and always at waning moon in order to preserve the fruit.
 
To only find nature in the bottle, the whole estate realizes biologic and bio-dynamic viticulture.
Country:
Varietals:

Gewurztraminer , Pinot Blanc , Pinot Gris , Pinot Noir , Riesling

Agricultural Standards:

Biodynamic