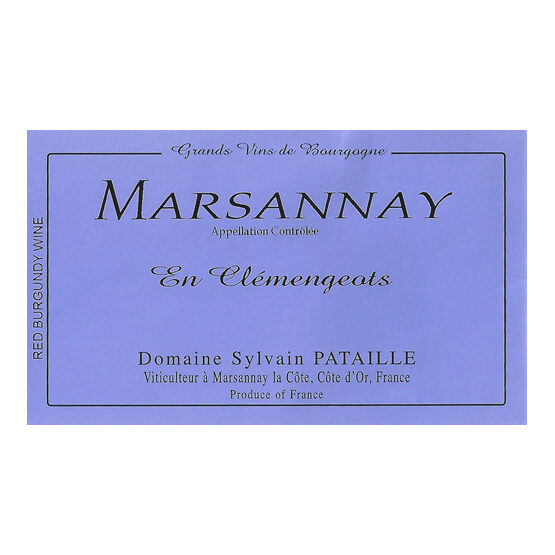 Domaine Sylvain Pataille Marsannay En Clémengeots
Wine Information
Size: 1 ha (2.47 ac)
Variety: Pinot Noir
Vine Age: Planted in 1951, 1989, 2006
Terroir: Couchey, specifically in the lieu-dit Au Champ Salomon at 282-315m altitude, 2-8% slope, east/ southeast-facing, red clay soils.
Viticulture: Organic certified, biodynamic methods
Vinification: 100% de-stemmed, indigenous yeast alcoholic fermentation, 18 months' aging in barrel (15% new), low sulfur addition only at bottling.
Etymology: Clemengeot is composed of two words:
Cle could come from the word Claie, which comes from the medieval Latin word for wood trellis, CLIDA. CLIDA designates an openwork fence structure with intertwined wood that consists of posts driven into the ground. 
Mongeot could be a Burgundian diminutive of ancient French Monge (monk or solitary). Monge —from the imperial Latin word MONAHUS (monk, solitary).
Source: The Climats and Lieux-Dits of the Great Vineyards of Burgundy, Marie-Hélène Landrieu-Lussigny.
Site: En Clemengeot sits at the northern border of Couchey toward the bottom of the slope at 280-meters elevation. The slope is very gentle and faces east. A small combe to the northwest provides cool air.
Product Name: Marsannay En Clémengeots
Producer: Domaine Sylvain Pataille
Importer: Becky Wasserman Selections
Country Region Appellation: > >

France
Burgundy
Cote de Nuits

>

France
Burgundy
Cote de Nuits
Marsannay

Varietal:

Pinot Noir

Agricultural Standards:

Biodynamic , Organic

ALC %:

13