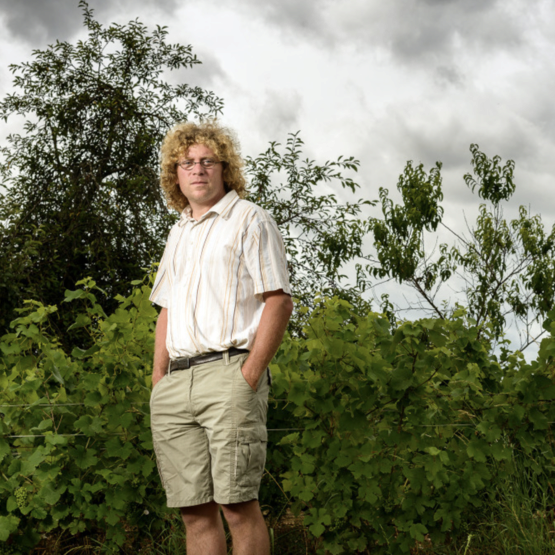 Domaine Sylvain Pataille
Sylvain Pataille makes wines exclusively from the terroirs of Marsannay-la-Côte, and he loves his terriors! He comes from a family domaine in Marsannay but after studying in Bordeaux he worked as a (very successful) consulting enologist while establishing his own domaine. He started with one hectare but today has 10, producing 12 cuvées that cover a spectrum from Aligote, Passetoutgrain and regional bourgogne of both colours to Marsannay blanc, rosé and rouge.
 
Sylvain's first vintage was 2001, and whilst the family domaine could accommodate his early steps, 10 hectares demanded more space so since the start of September 2004 he has his new premises in Chenôve. At the time of my visit a team were involved in breaking up the rocks in his driveway. Once the work is complete he will have separate facilities for his reds and whites.
Sylvain's vinification philosophy is natural, natural, natural. Everything as simple as possible, natural yeasts, no enzymes and maximum fermentation temperatures of around 32°C. The wines are vinified in a mix of stainless-steel and fibre-glass before going in cask. When the vintage allows, such as 2002 and 2003, he's not afraid to use plenty of new oak but it's presence is felt most on the palate rather than the aromatics; nice mouthfeel and some fat. Sylvain likes his wines to have character and show their fruit. His overall yield in 2004 was 42 hectolitres per hectare, quite a bit higher than in 2003.
Location: Marsannay-la-Côte, Côte de Nuits, Burgundy
Size: 15 ha (37.07 ac)
Varieties: Pinot Noir, Pinot Beurrot, Chardonnay Blanc, Chardonnay Rose, Aligoté doré
Viticulture: Organic (certified Ecocert since 2008), biodynamic methods
Vinification: Some whole cluster, indigenous yeasts, 15-30% new oak, low sulfur doses only at bottling, unfined, filtration only for whites
Country:
Varietals:

Aligote , Chardonnay , Pinot Noir

Agricultural Standards:

Biodynamic , Organic