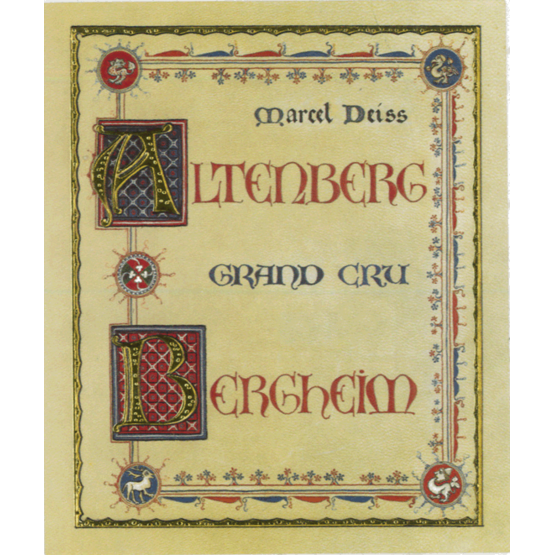 Domaine Marcel Deiss Altenberg De Bergheim Grand Cru
Wine Information
Terroir:  This magnificent terroir is situated in the heart of a geologic fault with hard Jurassic limestone and Triassic marl. These formations, rich in fossils, have formed a shallow clay-limestone soil that is red (ferrous) and rich in limestone rock, forcing the vine roots to dig deep for nourishment and water. Due to its Southern exposure, its distance from the Vosge limit, and its isolation, the microclimate of Altenberg is very warm, dry and nearly overexposed. Ripeness levels, often enhanced by Noble Rot, are exceptional, resulting in a wine whose co-planted varieties are dominated by the terroir.
Varieties: Co-plantation of all Alsatian varieties.
Characteristics: Autumn-colored, amber, thick robe. Spectacular nose of tropical fruits, candied lemon, acacia honey, with the elegance and lightness that is so characteristic of Altenberg. The palate is vibrant, creamy, rich yet with balanced acid (like in 2000), where all components come together perfectly. Varieties and clay, grower and limestone, fruit and pink sandstone, vintage and depth.
Product Name: Altenberg De Bergheim Grand Cru
Producer: Domaine Marcel Deiss
Importer: Becky Wasserman Selections
Country Region Appellation: > >

Alsace
Alsace Grand Cru
Altenberg de Bergheim Grand Cru

Varietal:

White Blend

Agricultural Standards:

Biodynamic , Organic

Closure:

Cork

ALC %:

12