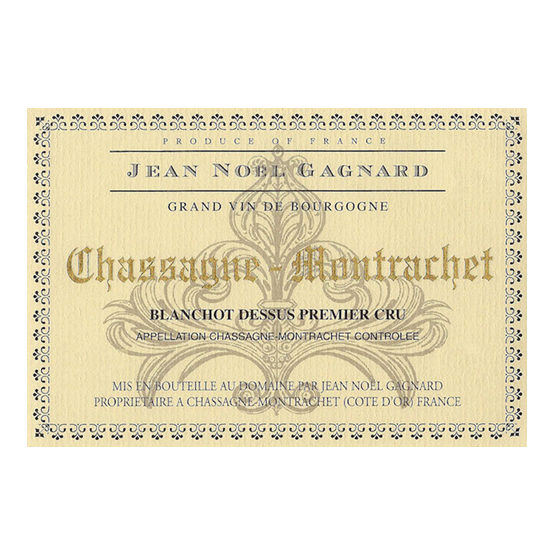 Domaine Jean-Noel Gagnard Chassagne Montrachet Premier Cru Blanchot-Dessus
Wine Information
The vines are planted on a small, flat plot of land located at the foot of Le Montrachet, in a small triangular depression.
This parcel was classified as a Première Cuvée in 1855. In the 1930s it almost made the status of Grand Cru, and actually the neighboring parcel, Les Criots, was declared Grand Cru on July 31, 1937. Blanchot-Dessus is still considered to be of equal quality to a Grand Cru. This wine produced from less than 1.2 hectares of vines, with small quanties as a result. Only 80 cases are produced each year.
Viticulture
Grape variety: 100% Chardonnay - white wine
Pruning: Guyot simple
Cultivation methods: Ploughing (no herbicides) - Compost as necessary
Vineyard protection: Supervised control
Terroir
Parcel: A small plot located at the foot of Le Montrachet, in a small triangular depression
Soil: Brown soil on the oolitic limestone of a pearly Callovian slab
Topography: Flat
Altitude: 235 metres
Exposure: Excellent south-east sun exposure
Product Name: Chassagne Montrachet Premier Cru Blanchot-Dessus
Producer: Domaine Jean-Noel Gagnard
Importer: Becky Wasserman Selections
Country Region Appellation: > >

France
Burgundy
Cotes de Beaune

>

France
Burgundy
Cotes de Beaune
Chassagne Montrachet 1er Cru

>

France
Burgundy
Cotes de Beaune
Chassagne Montrachet 1er Cru
Blanchot Dessus

Varietal:

Chardonnay

Agricultural Standards:

Biodynamic , Organic

ALC %:

13.5