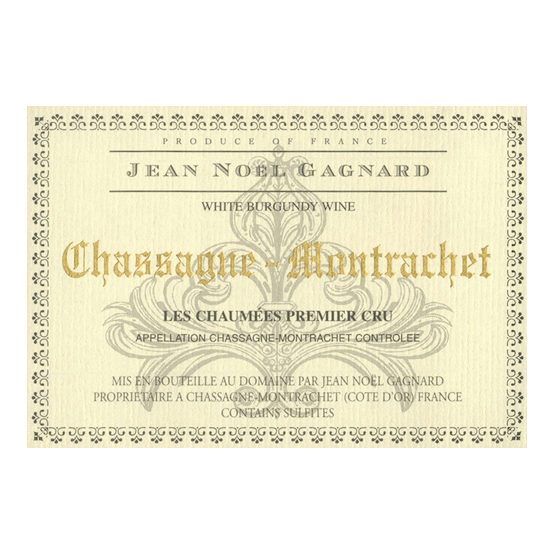 Domaine Jean-Noel Gagnard Chassagne Montrachet Premier Cru Les Chaumées
Wine Information
This appellation is the newest in the history of the domaine. It started with a first purchase in 1997, followed by another in 2004, and this appellation now completes the Jean Noël Gagnard range of 1er Crus, adding to the variety of the domaine's wines. The vineyard is located on the slope on the Saint-Aubin side (the northern edge) of the village above Les Vergers and Les Chenevottes. 
Approximately 370 cases are made each year.
Grape variety: 100% Chardonnay - white wine
Pruning: Guyot simple
Cultivation methods: Ploughing (no herbicides) - Compost as necessary
Vineyard protection: Supervised control
Parcel: Located on the slope at the northern edge (Saint-Aubin side) of the village above Les Vergers and Les Chenevottes
Soil: Light, stony, shallow soil, especially on the upper part of the slope where the rocks and the steep incline make ploughing impossible
Topography: Slope becoming much steeper towards the top
Altitude: 300 to 320 metres on average
Exposure: North-east
Product Name: Chassagne Montrachet Premier Cru Les Chaumées
Producer: Domaine Jean-Noel Gagnard
Importer: Becky Wasserman Selections
Country Region Appellation: > >

France
Burgundy
Cotes de Beaune

>

France
Burgundy
Cotes de Beaune
Chassagne Montrachet 1er Cru

>

France
Burgundy
Cotes de Beaune
Chassagne Montrachet 1er Cru
Les Chaumees

Varietal:

Chardonnay

Agricultural Standards:

Biodynamic , Organic

ALC %:

13.5