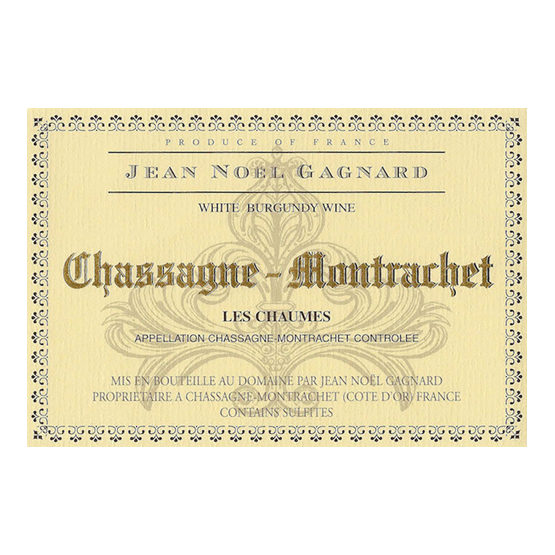 Domaine Jean-Noel Gagnard Chassagne Montrachet Les Chaumes
Wine Information
This appellation lies along the south border of the vast Morgeot territory, running along the lane which separates it from La Boudriotte 1er Cru. Chardonnay and Pinot Noir both grow here. In the Village appellation, red wine production is far greater in Chassagne-Montrachet with around 100 hectares of red vines as opposed to roughly 60 hectares for white vines.
Grapes for this wine come from two similar plots: one parcel is in the upper part of the appellation (just under the road to Santenay) and the other on the lower part. 
Approximately 200 cases of this cuvée are made each year.
Viticulture
Grape variety: 100% Chardonnay - white wine
Pruning: Guyot simple
Average age of the vines: 40 years
Cultivation methods: Ploughing (no herbicides) - Compost as necessary
Vineyard protection: Supervised control
Terroir
Parcel: 2 plots. One in the upper part of the area for this appellation, just under the road to Santenay, and the other in the lower part
Soil: Shallow clay soil
Topography: Gentle slope steepening halfway across
Altitude: 250 metres on average
Exposure: South-east
Product Name: Chassagne Montrachet Les Chaumes
Producer: Domaine Jean-Noel Gagnard
Importer: Becky Wasserman Selections
Country Region Appellation: > >

France
Burgundy
Cotes de Beaune

>

France
Burgundy
Cotes de Beaune
Chassagne Montrachet

Varietal:

Chardonnay

Agricultural Standards:

Biodynamic , Organic

Closure:

Cork

ALC %:

13.5