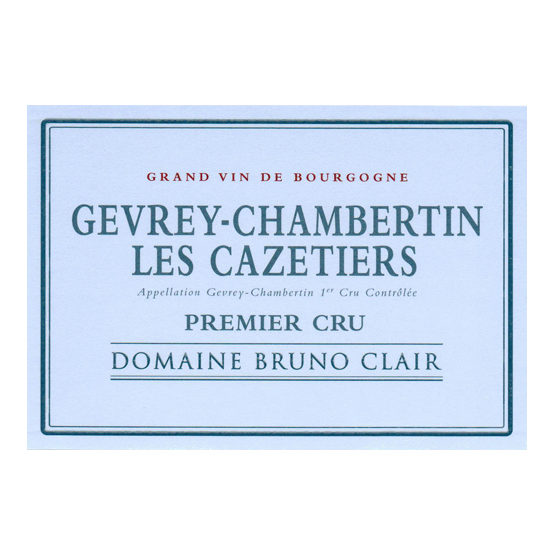 Domaine Bruno Clair Gevrey-Chambertin Premier Cru Les Cazetiers
Wine Information
Les Cazetiers is next to the Clos Saint-Jacques. Our plot is located in the upper part of the "climat" and is characterized by extremely poor, marly soil and limestone deposits. Three different dates of plantation; a third planted in 1958, another third in 1972 and the rest in 1996. The combination of the type of soil and and the quality of the vines produce low yields and grapes that are "millerandés" (partial crop failure) in the majority of the harvest.
The wine is characterized by very low acidity amply compensated by complex tannins of a surprising richness. The comparison of organoleptic qualities between our Clos Saint-Jacques and our Cazetiers shows in every vintage a very clear difference between the wines: le Cazetiers being more accessible in youth on the aromatic level and by the unique silkiness of the tannins as opposed to the Clos Saint-Jacques which is more reserved in the first years. A good example of the incredible variety of the terroirs and "climates" of the Côte is that these two wines result from vines being about the same age, from the same "massale" selection, having similar maturity and vinified in the same fermenting room, according to the same philosophy
Size: 0.87 ha (2.16 ac)
Variety: Pinot Noir
Vine Age: Planted in 1958, 1972, 1996
Terroir: Next to Clos St. Jacques, poor marl soil, limestone deposits
Viticulture: Lutte raisonnée (converting to organic)
Vinification: Mostly de-stemmed (20% whole-cluster in good harvest), indigenous yeast fermentation, pump-overs, some punch-downs. Aged for 18 months in barrel (0-50% new oak). Short blending period in tank before bottling.
Product Name: Gevrey-Chambertin Premier Cru Les Cazetiers
Producer: Domaine Bruno Clair
Importer: Becky Wasserman Selections
Country Region Appellation:

France
Burgundy
Cote de Nuits

>

France
Burgundy
Cote de Nuits
Gevrey Chambertin 1er Cru

>

France
Burgundy
Cote de Nuits
Gevrey Chambertin 1er Cru
Les Cazetiers

Varietal:

Pinot Noir

Agricultural Standards:

Organic , Sustainable

ALC %:

13