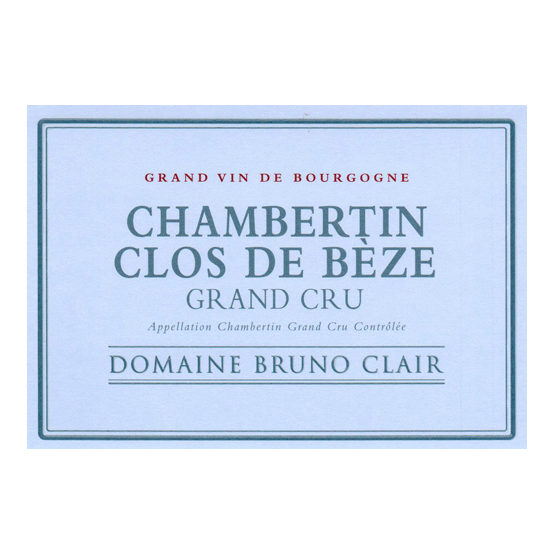 Domaine Bruno Clair Chambertin Clos de Bèze Grand Cru
Wine Information
Chambertin Clos de Bèze is a 15.4 ha grand cru vineyard. Clos de Bèze may be called Chambertin, but not vice versa.
This vineyard has a moderate to gentle east-facing slope with many small ripples and waves that interrupt the concavity of the slope, creating several gentle pockets as opposed to one large belly. The variability of the topography is likely influenced by a patchwork of faults and microfaults beneath the surface. The north end of Clos de Bèze dips towards the north.
Clos de Bèze has an 11% average slope gradient, which is quite gentle compared to 17% gradient in Clos Saint-Jacques, but it is slightly steeper than Chambertin. Its elevation is 275 to 300 meters; 310 meters for that little bit at the southwest corner at the very top of the slope where the rows run NS.
It is a warmer terroir than Chambertin because the latter has cooler breezes coming from the Combe Grisard above.
Size: 0.98 ha (2.42 ac)
Variety: Pinot Noir
Vine Age: 2/3 planted in 1912, 1/3 in 1972
Terroir: Extended on slope: poor stony soil at top, rich clay soil at bottom
Viticulture: Organic methods (not officially certified)
Vinification: Mostly de-stemmed (up to 20% whole-cluster in good harvest), indigenous yeast fermentation, pump-overs, some punch-downs. Aged for 18 months in barrel (0-50% new oak), short blending period in tank before bottling.
Product Name: Chambertin Clos de Bèze Grand Cru
Producer: Domaine Bruno Clair
Importer: Becky Wasserman Selections
Country Region Appellation: > >

France
Burgundy
Cote de Nuits

>

France
Burgundy
Cote de Nuits
Chambertin Clos de Beze Grand Cru

Varietal:

Pinot Noir

Agricultural Standards:

Organic

ALC %:

13