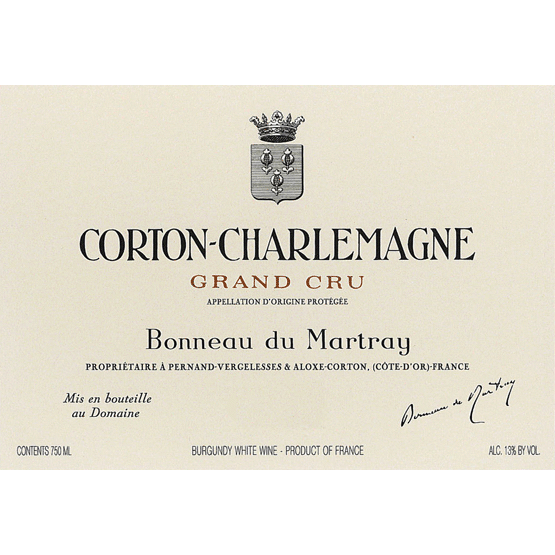 Bonneau du Martray Corton-Charlemagne Grand Cru
Wine Information
Bonneau du Martray's Corton-Charlemagne is a difficult wine to describe. This is particularly true when it is young. It can take a decade before it will say something more than "Stony. Wait." But even with age, it does not bloom in the same manner as the Montrachets do. In a way, it tastes like theoretical astronomy: we know that black matter exists. We can sense it, but we have no manifest proof of it. It's a very beautiful agony.
Size: 9.5 ha (23.5 ac)
Variety: Chardonnay
Vine Age: Planted from 1949-2007; 50 years average vine age in 2016
Terroir: 15 contiguous west-facing parcels in En Charlemagne and Le Charlemagne. There is almost no clay in the topsoil which is made of silt and sand, it lays over white marl. Up to 30% grade.
Viticulture: Certified organic (Ecocert) biodynamic
Vinification: Alcoholic fermentation with indigenous yeasts. Lee-stirring as needed. Aging initially in oak barrels (30% new), racking to tank with fine lees over winter.
Product Name: Corton-Charlemagne Grand Cru
Producer: Bonneau Du Martray
Importer: Becky Wasserman Selections
Country Region Appellation: >

France
Burgundy
Cotes de Beaune

>

France
Burgundy
Cotes de Beaune
Corton Grand Cru

Varietal:

Chardonnay

Agricultural Standards:

Biodynamic , Organic

ALC %:

13