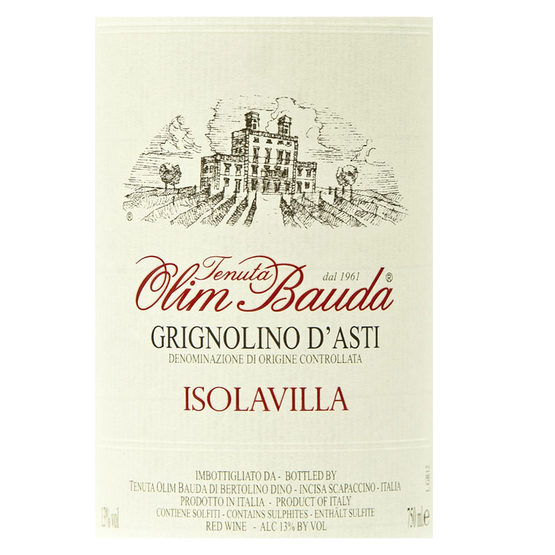 Tenuta Olim Bauda Grignolino D'Asti DOC "Isolavilla"
Tasting notes: ruby red more or less pale, with subtle amber highlights. The nose gives a delicate fragrance, with notes of wild berries, dried flowers and often accompanied by characteristic hints of white pepper. The palate is vivid and full-bodied but elegant, dry to the typical presence of tannins with a pleasantly almond.
Grignolino emerges in the history of the ancient vineyards of Piedmont, and finds its adoption in the territory between Asti and Casale Monferrato. The name derives almost certainly from "grignole" Asti dialect word to indicate the seeds are particularly numerous. It is a vine very demanding in terms of climate and terrain, difficult to grow and vinify, but gives an original and unpredictable wine. It likes sandy soil and limestone, which is a very poor soil, with southern exposure; these soils originate yield per plant very limited.
Serving temperature: 13°-14° C.
Product Name: Grignolino D'Asti DOC "Isolavilla"
Producer: Tenuta Olim Bauda
Importer: Fine Vines
Country Region Appellation:

Italy
Piemonte
Grignolino d'Asti

Closure:

Cork

UPC:

8-0326-0142501-4