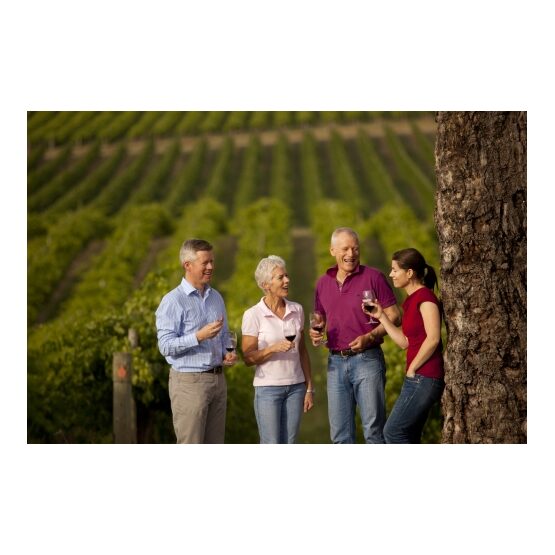 Thorn-Clarke
The winery owners are David and Cheryl Clarke (born Thorn) and their son Sam is the manager of the winery. The Thorn-Clarke family has a long history in the Barossa - six generations of involvement in the region's world famous wine industry. The Thorns have been grape growers in the Barossa since the 1870's. David Clarke's passion for the wine industry lead to the planting of the Kabininge vineyard outside of Tanunda in 1987, which represents the start of a deeper involvement by the family in the Barossa wine industry.
The Vineyards
St Kitts and Truro Vineyards--Cooler, and with lower rainfall, these northern Barossa vineyards totaling 103 hectares, are at an elevation of between 380 and 410 meters.
Mt Crawford Vineyard--Late ripening, high rainfall and with elevations as high as 475 meters above sea level, this 37 hectare Eden Valley vineyard can easily be confused with the Adelaide Hills - which is after all just across the range.  This site was specially selected as it was considered ideal to grow grape varieties which respond to cold climate.
Kabininge Vineyard--In stark contrast, the 33 hectare Kabininge vineyard is true Barossa Valley floor terroir. At just 270 meters above sea level red winegrapes ripen easily here.
Milton Park Vineyard--Located in classic Eden Valley country, between Angaston and Keyneton, the Milton Park vineyard has an elevation of between 330 and 400 meters above sea level.
Country:
Varietals:

Cabernet Franc , Cabernet Sauvignon , Chardonnay , Malbec , Merlot , Petit Verdot , Pinot Gris , Pinot Noir , Riesling , Shiraz

Agricultural Standards:

Sustainable