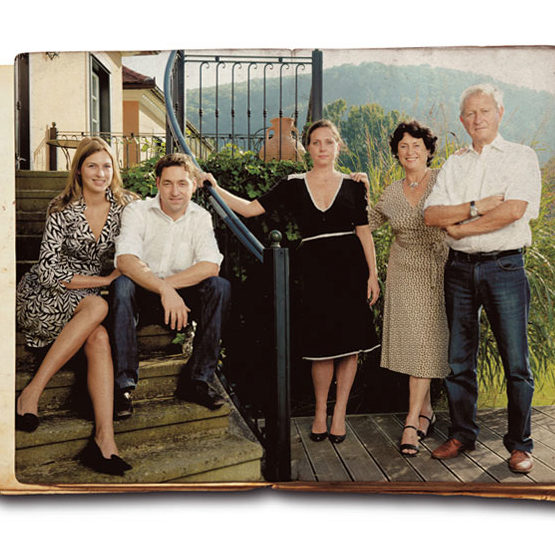 FX Pichler
Location is the basis for the authenticity of FX Pichler wines, the Wachau.  Single-vineyard wines are their commitment and challenge, goal and ideal all in one.  Pichler has tended the steep mountain terraces since the 12th and 13th centuries.  They have maintained a great respect for their terroir and  have received an exceptional cultural heritage in wine production.  Approximately 18 hectares of vineyards produce 52 percent of Grüner Veltliner, a large part planted with the vine selections of Franz Pichler, 47 percent Riesling and about 1 percent of Sauvignon Blanc.  A great percentage of the vineyards are steep Urgestein-terraced vineyards, which are rigorously worked by hand.  The Pichler principles are realized at the base of their vineyards and on the plane of the Loibner basin between Dürnstein and Rothenhof, at the eastern end of the Wachau.
Philosophy
"Alone in the vegetable kingdom, the vine gives us a true understanding of the savor of the
earth". These words by the French poet Madame Colette* best reflect our understanding of
nature, wine and sensual experience.
Our philosophy is to get the best out of the excellent potential nature offers us. A responsibility
not only towards our family, but also towards nature, history and the wine, because our
capital is the vineyards, the vines and the understanding gained from tradition in association
with intuition and world-openness.
* Sidonie Gabrielle Colette was born in Saint-Sauveur, Burgundy, on January
28th, 1873 and died in Paris on August 3rd, 1954.

Vinification
What we want is to craft wines that reflect the year, the soil and the special microclimate of the Wachau. The subtle nuances of each single vineyard are to be experienced and tasted in their multi-layered uniqueness.
This presupposes multi-pass manual picking of premium-quality, physiologically ripe grapes, careful grape processing, and traditional upbringing of the wines in large oak casks that are 30 to 40 years old. We aim for naturalness and distinctiveness, doing consistently without chaptalization, fining and concentration.
We compare the vintage cycle and vinification to the birth of a human being. The wine also requires affection, care and the guidance to perfection.