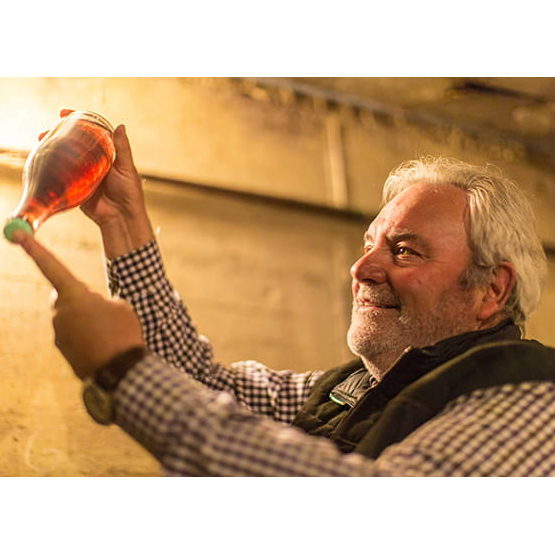 Domaine José Dhondt
It was wasn't until 1974 that José Dhondt, a longtime grower, produced his first cuvée.  José makes three wines, a NV Rosé, a NV Blanc de Blancs and another he calls "Mes Vieille Vignes," which, while always made from grapes of a single year, is only vintage dated when José decides it's been an especially good year in the vineyard.  Whether the "Mes Vieille Vignes" cuvée is vintage dated or not, it is astoundingly good Champagne, with a richness and persistence that is truly unparalleled.   
The Dhondt family's 6 hectares are split over several parcels, equally divided between the Côte des Blancs and the Sézannes regions.  The vines average 25 years of age, though grapes for his "Vieilles Vignes" cuvée come from 56 year old vines on a tiny parcel on a slope of Oger that was planted by José's grandfather.  Dhondt avoids chemicals as much as possible, practicing what the French call "culture raisonnée."  He keeps yields low with a severe debudding and sorts grapes mercilessly before they go into the press.  Pressing is done in a traditional vertical wood press and only one "retrousse" is allowed.  Vinification is in small temperature controlled stainless steel vats with individual lots kept separate.
"Pale silver with an energetic mousse. Delicate and impressively precise, offering bright lemon/lime, pear and white peach aromas underscored by zesty minerals. Seems virtually weightless, with lithe citrus and orchard fruit flavors and a long, graceful finish. Outstanding Champagne, in an understated, extremely suave style. 91 points" – Josh Raynolds, IWC
This small champagne producer from the Côte des Blancs crystallizes perfectly the varied impact and opinions about grower or single estate champagne.  In the USA José Dhondt is very much the flavor of the month.  The estate is some 5 ha of land, based where the production facility is, in the Côte des Blancs village of Oger.  There are small portions of land in Le Mesnil-sur-Oger and in the southerly Sézannais where there is also a little Pinot Noir planted from which a rosé champagne is made.  On the whole, this is Chardonnay country and all of the wines, bar the rosé, are Blanc de Blancs, 100% Chardonnay based.  Some 50,000 bottles are produced annually, 25% is now exported, principally to the USA and Italy.  A fraction of the harvest is sold to Möet and other houses.  Although not organic, the estate is making strides in reducing the use of chemicals in the vineyard to a minimum.  They aim to harvest as late as possible, wanting grapes as ripe as possible.
Country:
Agricultural Standards:

Sustainable