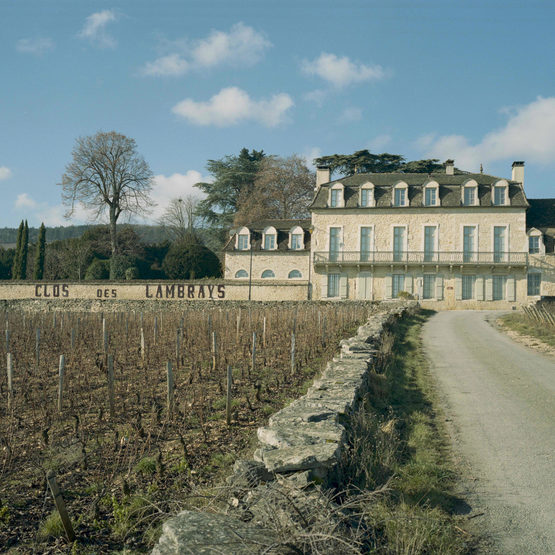 Domaine Des Lambrays
The Clos des Lambrays produced legendary wines in the 40's. After its purchase in '79 (elevation to Grand Cru status In 1981), the new owners, Saiers, did some replanting, but it was only about one-third of the vines, not the general replanting that some journalists have stated. Fully two-thirds on the vines are old, most in excess of 60 years.
What did happen in the late '80's is that Saiers apparently chose to allow yields to increase, but they suffered the consequences of that approach in quality and they were forced to sell the domaine. While it was for sale, the court turned over all phases of growing and winemaking to the regisseur, Thierry Brouin. Under his impeccable guidance the transformation in quality has been sensational. The new owners, Freund, have retained Thierry.
The '96 is deep, (yields of 28 hl/ha.) very (for want of a better word) masculine, wine. It is not easy now, but shows enormous potential, and the tannins are quite round and integrated. The 1997 is a marvel of seductive perfume and richness. In 1998 the Clos des Lambrays produced one of the great wines of the Cote D'Or, rated 91 to 94 points potential by Steven Tanzer in the International Wine Cellar. The 1999 looks to be every bit as promising with the delightful deep rich color and flavors that typify this vintage in the best domaines of Burgundy.
In the words of Michel Bettane, the Clos des Lambrays is an extraordinary terroir, capable of giving wines that, in generosity of savour and length rival the greatest. It is, as Brouin pointed out to me, and shows on the palate, the most "Morey" of all the Grand Crus of that appellation—the terroir really comes through.
In the vinification, too, Brouin captures this—a long fermentation, no de-stemming, and 50% new allier oak. The wines are unfined, only the last sixth of each barrel is then lightly filtered (the rest are unfiltered), and starting with '94 our selection, completely unfined and unfiltered. In 1998, only about 65% of the production of the Clos des Lambrays went into the cuvee of Clos Grand Cru, the rest was sold as Morey Premier Cru—also a fantastic wine – evidencing the domaine's commitment to utmost quality.
Clos des Lambrays is back.