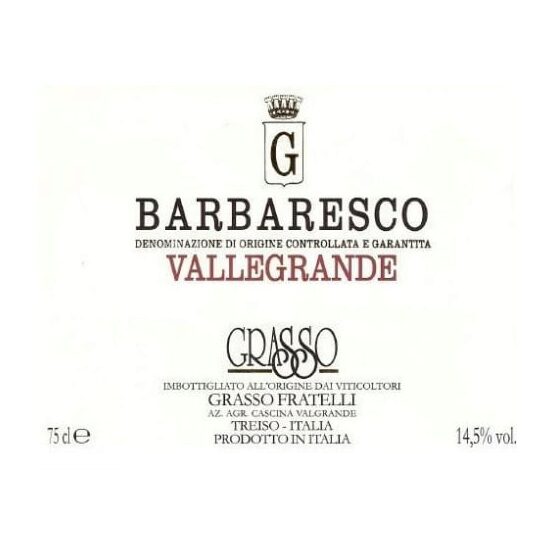 Grasso Fratelli Barbaresco Vallegrande
Wine Information 
Alfredo and Luigi truly love what they do. A simple way of life, they spend the majority of their waking hours in the vineyards or in the winery doing everything together by hand. Of course, they want you to enjoy their wine, but their passion isn't for selling but for making. This is why they hold wine to release when the wine is truly ready. The opportunity to taste older vintages of Nebbiolo released from the winery at affordable prices is a rare one indeed. For fifty years the brothers have been working together and making only small improvements to a very traditional way of thinking. With four generations of experience with the land, they nurture a classic, rustic style that expresses fully the terroir of their vineyards and the positive energy of their approach. A wine full of character with rose petal, cherry, and cassis balanced by savory elements of cedar, forest-floor, and espresso bean. The 2005 vintage shows the subtlety and nuance that makes the Nebbiolo grape one of the most noble and age-worthy grapes in the world. Compare it to a more youthful vintage like the 2015 and appreciate the evolution of time in a bottle!
Food Pairing: Great with mushrooms and pasta, wild game like boar or pheasant. Try it with a steak served with roasted mushroom gravy over mashed potatoes seasoned with rosemary and thyme.
Varietal Notes: Nebbiolo: The most noble grape in all of Italy, this grape stands alone for its tannic structure, high acidity, and thinner skin. Typically a lighter garnet color, this grape can show surprising strength and has the potential to age for decades. The Nebbiolo grape, when made in the region of Barolo, is considered "the wine of kings, and the king of wines" because of its popularity with the ruling House Savoy, in the 1800's. It didn't take long for the prestige of the Nebbiolo grape to show its great potential in the area near the Tanaro river around the town of Barbaresco, considered the 'Queen' region of the Nebbiolo grape.
Terroir: Grey marl (clay and limestone) with layers of sand an average of 1200 feet asl. on a western facing slope.
Winemaking: A very traditional style, this single vineyard 'Vallegrande' is aged between 30-48 months in large Slavonian oak Botti before bottling. There is no hurry, the wines are released when the brothers feel like the wine is ready.
Product Name: Barbaresco Vallegrande
Producer: Grasso Fratelli
Importer: Uva Imports
Country Region Appellation: > >
Varietal:

Nebbiolo

Agricultural Standards:

Sustainable

ALC %:

14.5