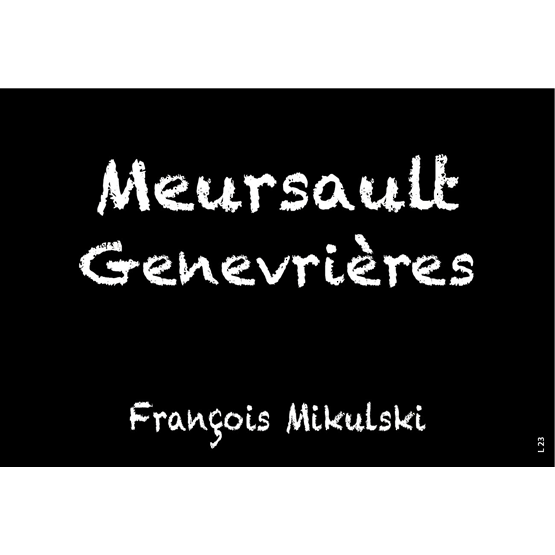 Francois Mikulski Meursault Premier Cru Les Genevrieres
Wine Information
The Meursault Premier Cru les Genevrières vineyard that we have cultivated since 1992 is on a sharecropping basis (50% of the crop for the owner, 50% for the tenant).
It covers an area of 0.53 ares and faces east on the Meursault hillside.
It is around 50 years old.
Its vines are 100% Chardonnay.
Annual production: around 3,000 bottles.
The vines are cultivated using non-certified organic methods.
The subsoil consists of limestone gravels on a base of fractured rock plates. Brown soil has filtered down causing silt to settle between the plates. This type of soil provides optimal water storage. The root systems become established in the cracks in the plates.
By ageing with just 20% in new barrels and the rest in barrels that have held one, two or three wines, we preserve the unique character of the terroir.
It has the greatest cellaring potential of all our appellations. It is a powerful wine, elegant, with a very beautiful material.
Product Name: Meursault Premier Cru Les Genevrieres
Producer: Domaine François Mikulski
Importer: Becky Wasserman Selections
Country Region Appellation: >

France
Burgundy
Cotes de Beaune

>

France
Burgundy
Cotes de Beaune
Meursault 1er Cru

Varietal:

Chardonnay

Agricultural Standards:

Organic , Sustainable

Closure:

Cork

ALC %:

13