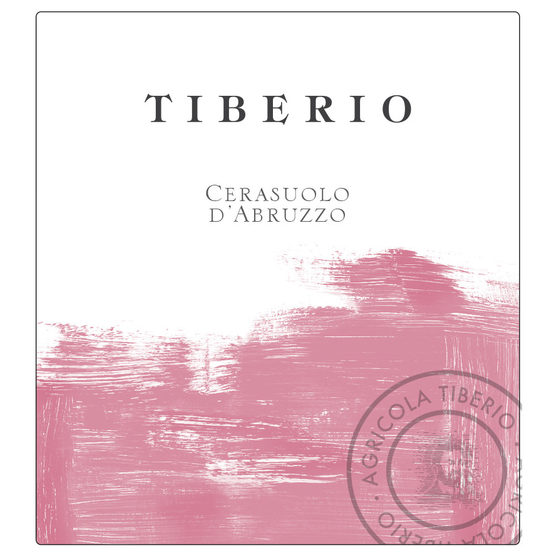 Tiberio Cerasuolo d'Abruzzo
Wine Information
Bright pinkish-red color. Fresh, pure aromas and flavors of red cherry, raspberry and orange peel. Very juicy with outstanding definition, lovely acid-fruit balance, crisp, clean, floral finish with sneaky concentration.
Made from Montepulciano massal selection grapes; vine age – 52 years average in 2015; grown on soils of limestone. Fermented in stainless steel tanks. Aged in stainless steel. Aged for 3 months.
Cerasuolo d'Abruzzo is a proper Denomination and Appellation, not a rosè of some other wine or appellation. Created in October 2010, the title covers the cherry-red, brightly flavored wines formerly labeled as Montepulciano d'Abruzzo Cerasuolo. Most other rosès and rosati are made within an appellation as an addition to the other (classic) wines of the region. (Tavel is another exception. All Tavel is Rosé).
Cerasuolo D'Abruzzo must have specific characteristic of density (usually deeper than a rosé) and specific color intensity (deeper than rosé), with specific flavors of red fruits and light tannins in the palate.
In Abruzzo, many wineries produce a rosato outside the Cerasuolo D'Abruzzo appellation, that is lighter than Cerasuolo, made with 100% Montepulciano grapes.
Vineyard Profile
Cerasuolo d'Abruzzo Tiberio is made entirely from indigenous Montepulciano d'Abruzzo grapes, original and old clones in order to guarantee the identity and the traditional flavors of Cerasuolo wine. No press juice is used, just free run juice. The fruit comes from one specific block of Montepulciano that is a cooler sight than where the fruit for the regular Montepulciano comes from.
Harvest Notes
The grapes are harvested earlier to preserve the freshness and acidity. The fruit is destemmed and then left in the tank in contact with the skins for only 20 MINUTES! It gets that beautiful dark rose color with only 20 mins of skin contact on average.  – definitely in less than an hour. If you know this wine then you will find that as shocking as I did and I did ask for clarification on that point. I guessed that the wine was in contact with the skins for 8 hours or so. Hand harvested in the end of September
Product Name: Cerasuolo d'Abruzzo
Producer: Tiberio
Country Region Appellation:
Varietal:

Montepulciano

Style:

Rose

Category:

Still Dry

Agricultural Standards:

Sustainable

ALC %:

13.5

UPC:

8-032919-422019