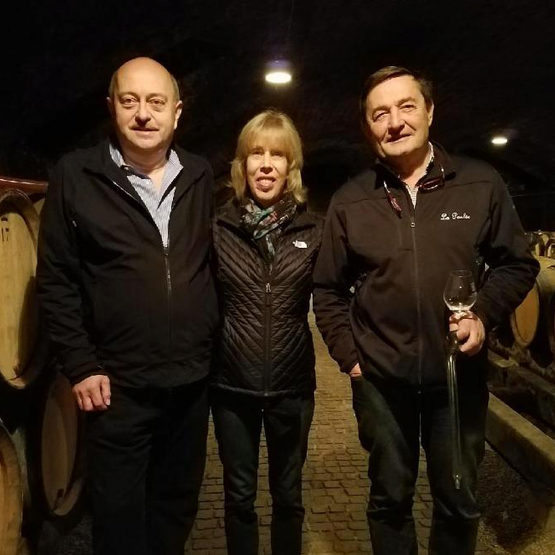 Domaine des Comtes Lafon
The Estate as it exists today was largely established by Jules Lafon and it is important to distinguish the parcels originating from the Marie Boch inheritance (some of which have since been sold, particularly those of generic Burgundy), from other land bought or exchanged:
The Boch Inheritance:
les achats ou échanges
The Boch Inheritance
Monthélie (only Les Duresses remains today. Other 'climats' such as 'En la Rue- Chavy' and 'Sous-le-Puits-de-Curty' were sold by Pierre and Henry Lafon.)
Clos des Chênes (Aboz), acquired by Henri Boch in 1853
Clos de la Barre et En la Barre
Volnay Champans
Volnay Santenots-du-milieu
Purchases
le Montrachet (en 1918)
la Goutte d'Or
les Genevrières-dessus
les Perrières
lesVolnay Santenots
le Clos des Chênes
part of Les Charmes
Pierre and Henri Lafon
What they brought to the estate was of limited interest. Following the premature death of Pierre in 1944, Henri clearly intended to sell off the estate which was mainly rented out to sharecroppers. His son, René Lafon, who at that time lived and worked in Paris, was opposed to the idea.
Throughout this period of uncertainty, the Estate was farmed by sharecroppers.
René Lafon
Après After his determined intervention to prevent the division of the vineyards, René Lafon took over the estate in 1956 and with the sharecroppers' cooperation, set about getting the vineyards back into condition which involved extensive planting. Gradually, a higher and higher proportion of the production was bottled leading to the entire production by 1961. His interest in wine and the vine led him to leave Paris and move permanently to Meursault and to the Victorian abode which remains the home of his wife and himself.
Dominique Lafon
He took over from his father in 1984, initially with his brother Bruno. In 1987, he gradually terminated the existing sharecropping agreements (9-year leases). Since then, the entire Estate of 13.80 hectares has been managed solely by the Domaine des Comtes Lafon.