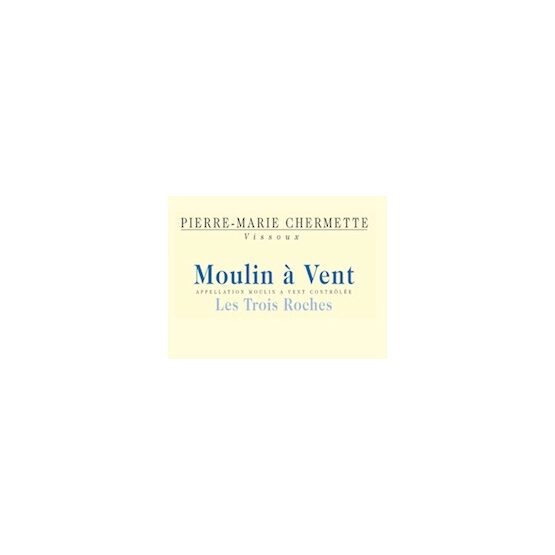 Domaine Pierre-Marie Chermette Moulin à Vent "Les Trois Roches"
Wine Information
Purchased in 2002 by Martine and Pierre-Marie Chermette, the vineyard at La Rochelle overlooks the famous antique moulin à vent or windmill that gives the appellation its name. It is southeast facing with a subsoil rich in manganese, giving the wine quite a noble disposition.The three different plots of vines we use for this cuvée give a wine that is full and balanced: Rochegrès from 1ha. gives finesse, Roche Noire from 2 ha. gives liveliness and fruit while La Rochelle from 1.5ha. contributes power.  The manganese-rich subsoil endows nobility on the whole resulting in an 'all round' Moulin à Vent that may be enjoyed from now for its fruity side or cellared to mature for up to 10 years.  Integrated vinegrowing, goblet pruning, manual harvest at full ripeness Traditional Beaujolais vinification with "rack and return", 10 to 12-day maceration in vats, no yeast seeding, no chaptalisation, minimum SO2, pneumatic pressing Maturing: half in tuns and half in 1 to 5-year-old barrels
Tasting Notes:
Robe - deep, crimson with purple-blue tints
Nose - floral bouquet, iris, violet, peony, red and black fruit, hints of vanilla.
Palate - concentration in finesse, tannins with a patina, creaminess, velvety suave texture, red and black cherry flesh, mineral and spicy vanilla notes to finish.