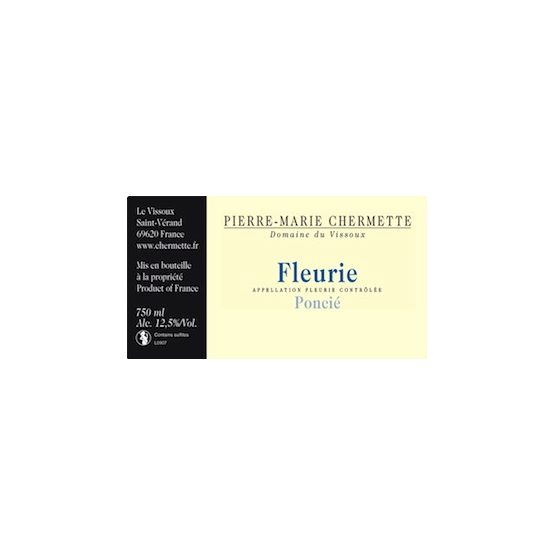 Domaine Pierre-Marie Chermette Fleurie Poncie
Wine Information
From 4.5 hectares of a south-east facing slope called Poncié in the heights of Fleurie planted 35 years ago. It is so steep that no mechanisation at all is possible, but that results in a wine of feminie elegance and supple tannins. The soil is made up of pink granite rich in mica and quartz with a crumbly surface. Integrated vinegrowing, goblet pruning, manual harvest at full ripeness Traditional Beaujolais vinification Beaujolaise with "rack and return", 10-day maceration in vats, no yeast seeding, no chaptalisation, minimum SO2, pneumatic pressing Maturing: 6 months in old oak tuns.  This wine has a feminine personality, packed with finesse and suavity. Silky tannins, crimson tints and a floral iris, violet and rose bouquet with a peppery touch on the palate.
Tasting Notes
Robe - shiny crimson with deep purple tints.
Nose - delicate and floral, fully blown rose, peony, violet
Palate - the silky Poncié tannins give suppleness, delicacy and elegance. Really flavourful. over and above red fruit, you will find notes of toast and undergrowth with an end that is often peppery.