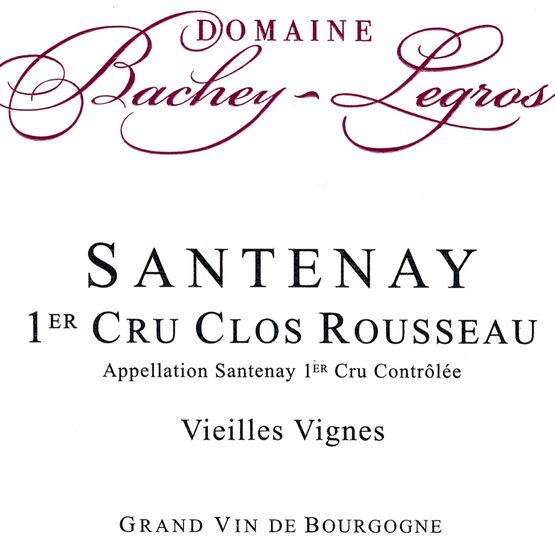 Domaine Bachey-Legros Santenay Premier Cru Clos Rousseau Les Fourneaux Vieilles Vignes
Wine Information
Les Fourneaux is part of the "Clos Rousseau" Premier Cru appellation.  This parcel contains our oldest vines, planted in 1914 and some of the oldest of the Cote de Beaune.  Its exceptional vines and its age led us to decide to make an exclusive cuvee of it, "apart".  The result is clearly a wine "apart", out of the ordinary. 
An experience for the palate.  These are ancient vines that we treat with much care, and great respect.  We work hard supporting, lifting up, bolstering these old vines, all by hand, human hand, in this plot where using machinery is impossible anyway, given the large size of each vine base.  So our work is like that of a curator in a botanical museum, with all the emotion that you might feel when you are in contact with an ancient work of art.  The deep roots plunge far down into the terroir, giving the grapes tannins of unparalleled velvety smoothness.  Those privileged to come and taste it may boast of having drunk such a unique wine, with such identity, marked by very ripe black fruit.
Product Name: Santenay Premier Cru Clos Rousseau Les Fourneaux Vieilles Vignes
Producer: Domaine Bachey-Legros
Importer: Weygandt-Metzler
Country Region Appellation: > >

France
Burgundy
Cotes de Beaune

>

France
Burgundy
Cotes de Beaune
Santenay 1er Cru
Les Fourneaux

Varietal:

Pinot Noir

Agricultural Standards:

Sustainable

ALC %:

13.5