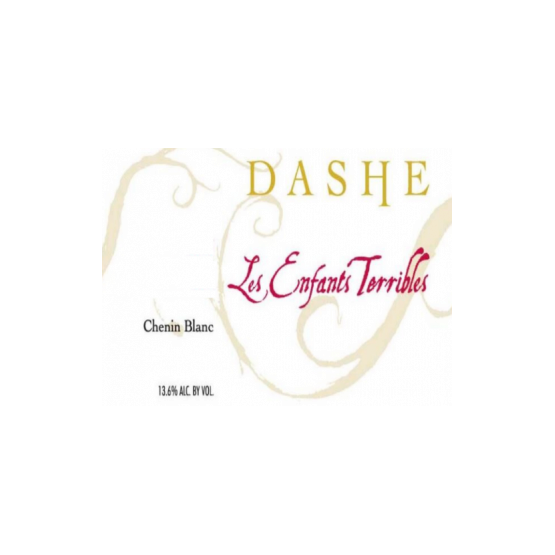 Dashe Chenin Blanc Concrete Cuvée
Wine Information
Pale gold color, this Chenin Blanc shows beautiful aromas of pear with hints of apricot, minerals, honeycomb, grapefruit, pear, sweet spice finish. On the palate, the wine is rich, with a viscous texture and pear, apricot fruit flavors, hints of grapefruit. crisp acidity, long, lively stonefruit finish. Chenin blanc is certainly a favorite to pair with food and can be enjoyed on its own as an aperitif.
Grapes are picked at night to keep them as cold as possible and are pressed in an egg-shaped concrete fermenter immediately on arrival at the winery. In Dashe's style, the grapes are fermented on the native yeasts found on the grape skins.  The white wines are bottled as soon as possible to keep the freshness and liveliness of the wine intact. 
Vineyard Information
The winemaking team at Dashe has long been a fan of Chenin Blanc from the Loire Valley, and over the years have searched for local Chenin Blanc grapes to make a crisp, dry wine from this classic varietal. They discovered an ideal vineyard in Clarksburg California, home to the vast majority of Chenin Blanc grapes grown in California. This unique area is in the Sacramento River delta, where cool breezes from the San Francisco Bay cool the grapes, creating hot afternoons and cool evenings that make for ideal conditions to grow Chenin Blanc. A 500 gallon egg-shaped concrete fermentation vessel is used to highlight the minerality of the grapes, and the results have exceeded the winemaker's expectations.
Product Name: Chenin Blanc Concrete Cuvée Les Enfants Terribles
Producer: Dashe Cellars
Country Region Appellation: >

USA
California
Central Valley

>

USA
California
Central Valley
Clarksburg

Varietal:

Chenin Blanc

Agricultural Standards:

Organic

ALC %:

13.5