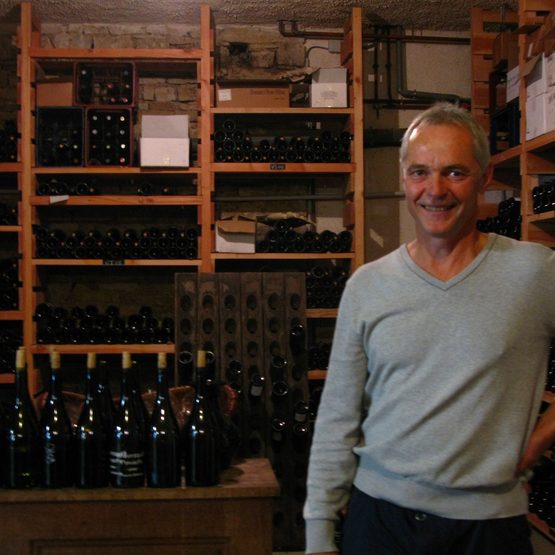 Domaine François Mikulski
Unlike many others in Burgundy François Mikulski does not have a long line of vignerons in his family. Domaine Mikulski was founded as late as in 1992. His father left his native Poland for England in 1939. Via Luxembourg he arrived in Dijon where François Mikulski was born in 1963. But life as a vigneron has not been all that different, despite the lack of wine growers in the family.
– Sometimes it is easier, François Mikulski explains. It all depends on how you feel about working with your parents. Most of the time the son doesn't want to do like his father. He's changing a little bit, a lot or too much of the philosophy. For us it was easier because we could change what we wanted.
With a Polish name and no family tradition to keep in mind François Mikulski and his wife Marie-Pierre were free to create something completely new when they founded Domaine Mikulski in 1992. The most obvious result was the labels for the bottles, far from the traditional burgundian label.
– Financially it was difficult when we started. We didn't have any money to start with so we had to go to the bank. In 1992 we expected to sell the wine to négociants, but the prices were so low that we decided to bottle it ourselves. But then you need more money to buy bottles and corks. So yes, it was hard the first eight years.
For François Mikulski wine grower was the obvious choice of profession when growing up.
– Oh yes, he says. I didn't like school very much. I wanted to be outside and work with plants. My mother asked me if I would consider working in the vineyards because we had vineyards in the family. My uncle's children didn't stay so it was free for me.
After viticultural studies and a year of military service François Mikulski left for California and the Calera Wine Company. Back in Burgundy he had met Californian winemaker Ted Lemon, who runs Littorai Wines today, when he was working with Doamine Roulot in Meursault. This inspired him to travel abroad in order to see more of the world, gain some more experience, and learn English.
He stayed in California during the 1983 harvest. When he returned to Burgundy he brought some valuable experience with him.
– One thing was the fact that we are not alone. Also that their winemaking was different, more technical than ours. 25 years ago the technique in Burgundy was very old-fashioned. The Americans were more efficient. But of course they didn't have the terroir. I think it is good for a winemaker to travel and to see which our strongest points are and where we need to improve.
Burgundy's strong point is of course the terroir. With around 60 wine growers in Meursault there is some serious competition, but François Mikulski describes it as very friendly.
– We are not just following fashion, like new wood or sweet wine, he says. We have a tradition and all of us – almost – are working hard to get good quality. We are going slowly and surely.
Between wine growers there is an exchange of experiences, both on a local level in Burgundy and internationally. Shortly after this interview François Mikulski left for Washington, where he would meet winemakers from both France and other countries.
– America and the New World are different. Usually there are rich owners with people paid to do only one task each. We have a different situation because we can decide about everything. They can't. Usually they have a winemaker, but he must ask the owner before he changes anything.
Today Domaine Mikulski covers 8.5 ha, all rented. Part of it comes from his uncle that he worked with from his return from the US until 1992. The rest is the neighbour's vineyards.
Country:
Varietals:

Chardonnay , Pinot Noir

Agricultural Standards:

Organic , Sustainable