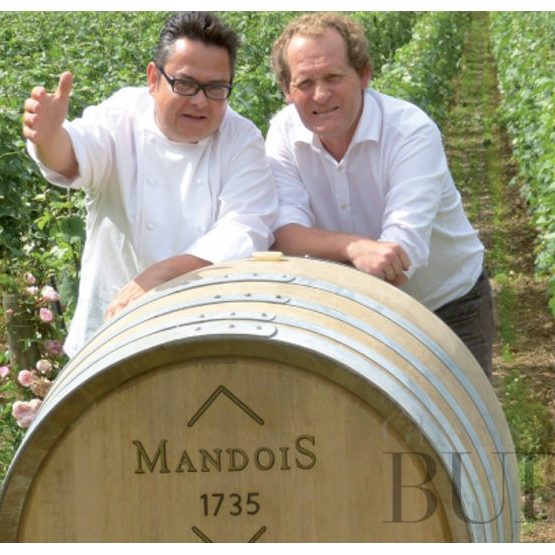 Champagne Henri Mandois
The Mandois's vineyards date back to 1735 when the family decided to acquire vines in Champagne.  Jean Mandois, while Frère Odoart was active, owned and worked a few parcels on the slopes of Epernay.  The long family history revolutionized when Victor Mandois, Jean's great-grandson, decided to vinify and commercialize the wines from Champagne in Epernay.  The caves of Mandois are dug deeply into the "heart of Champagne," the very unique atmosphere due to the incredible architecture with vaults made of meuliere stones where the liquers de dosage are secretly elaborated and the reserve wines are stored in oak casks to ensure continuity of style.  The estate provides enough grapes to maintain 70% self-sufficiency for its wine production.
Mandois Champagnes are crisp with great richness on the palate and a long lasting finish due to extended aging on the lees.  Elegance and purity are the key notes to these wines.  Highlighting the estate is Clos Mandois, a rare, unbroken, enclosed plot which yields grapes of outstanding quality.  Year after year, this Clos produces a unique Cuvée whose potential is amongst the greatest wines from Champagne.
Situated in Pierry, a village in the "Cote des Blancs" and classified as Premier Cru in Champagne, the Mandois estate vineyard is 35 hectares, and represents 70% of the fruit for production. The vineyards are spread among 12 villages, and include parcels in the Cote des Blancs, the slopes of Epernay, and the region around Sezanne. Sourced grapes come form such prestigiuos villages and terroirs as Chouilly, Vertus, Pierry, and Epernay. Mandois' vineyard is comprised of 70% Chardonnay, 15% Pinot Meunier and 15% Pinot Noir.
The property was established in 1735 by Jean Mandois. The estate is led by Claude Mandois (born in 1961), representing the 9th generation since Jean. Claude Mandois is now in charge of following the constant policy of the house and of the continuity of the family philosophy. Independent, Mandois can continue to take the right decisions over the long run, ensure the continuity and the consistency of the style and the quality of its wines. Bringing together tradition and modernity, the family Mandois is faithful to the values of the Champagne houses.
Fine Vines is very proud to be the exclusive importer of Champagne Mandois to the US market.
Country:
Agricultural Standards:

Sustainable