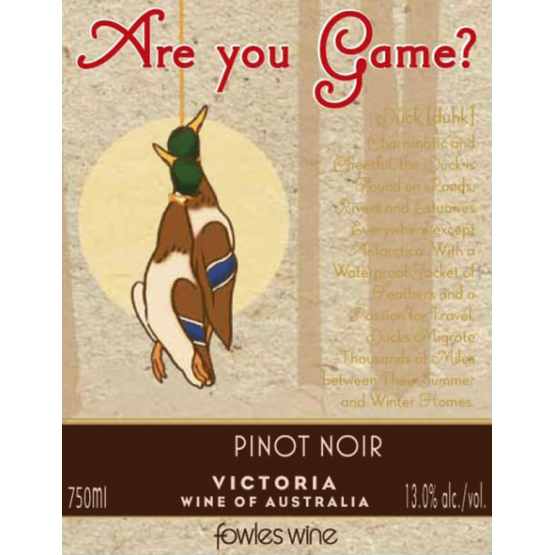 Fowles Wines Are You Game? Pinot Noir
Wine Information
As a family of hunters, farmers and vignerons we are passionate about sourcing our food from the wild, growing it at home and matching wild textures and flavours with unique wines. Our Are you Game? wines are an ode to socially conscious consumption and aim to bring awareness to meat with merit. Intensely aromatic yet light bodied and fine in texture, each wine is blended with a dash of an alternative varietal to add complexity and encourage discovery in food and wine. 
Bright cherry red with medium depth of colour, this Pinot Noir exudes aromas of strawberries and cherries, balanced with savoury notes of bracken and earth. Flavours of raspberry are cut with fresh acidity found in cool climate Pinot Noirs. 
Fermented with wild yeasts, matured for 5 months in new (20%) and old (80%) French oak, and finished off with a dash of Sangiovese (15%) . The Sangiovese provides complex dusty tannins in the wine, helps brighten the red hues of colour and also adds a savoury quality on the palate.
Product Name: Are You Game? Pinot Noir
Producer: Fowles Wines
Importer: Fowles Wines
Country Region Appellation: >
Varietal:

Pinot Noir

Agricultural Standards:

Sustainable

ALC %:

13