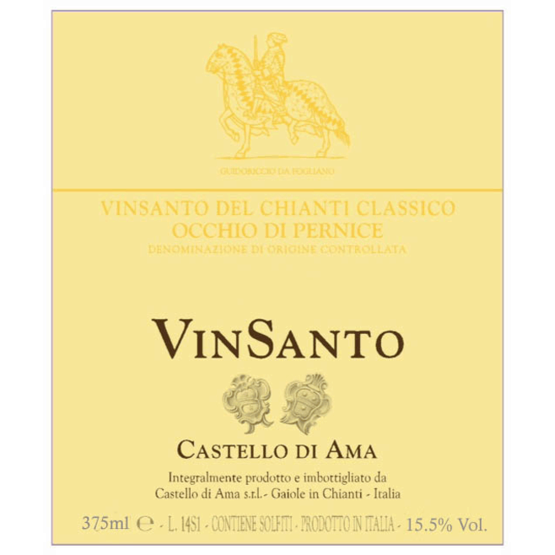 Castello Di Ama Vin Santo del Chianti Classico
Vineyard Profile
VinSanto is made from a selection of the best Malvasia Bianca and Trebbiano grapes from the La Casuccia vineyard.  Only one or two clusters at most from each vine are used to make the wine and harvesting is extremely meticulous, checking the state of health and ripeness of all the grapes.  To ensure the fruit is not damaged on its way to the drying rooms, it is collected in small crates.
The grapes are left to dry until the sugar concentration reaches at least 350 g/l, after which they are pressed.
The juice, which has a very high sugar content, is left to ferment and mature in French oak barriques, on average for about five years.
The ratio of grapes picked to VinSanto bottled is about 1:5.
Aspecting:  Northwest – Southwest
Soil:  Very rocky clay and limestone
Altitude: 460 metres asl
Training system:  Vertical trellis
Vine density:  5,200 plants/h
Harvest Notes
Climate:
After a heavy snowfall in February, temperatures began to rise and an exceptionally mild March led to a dangerously accelerated onset of vine growth.
April and early May, however, brought significant rainfall and moderately lower temperatures.  Such alternations in weather conditions resulted in significantly different situation from vineyard to vineyard.
Summer arrived, bringing extreme heat and no rainfall, but initial vineyard sampling revealed a slowdown in the ripening process, as well as extraordinary small-sized berries.
September brought a notable drop in temperature, below the seasonal average.
Start of harvest was decided only after numerous samples were taken for sensory analysis in the vineyard and in the laboratory.
Harvest was entirely by hand, on September 15-16, filling 10-12 kg crates, followed by inspection on a sorting bench.
Vinification:
The grapes were left to dry in garlands of clusters arranged in special, moisture-free, well-aired rooms, until they acquired the right sugar concentration.
The fruit and the stalks were then crushed and pressed gently.
After an initial static racking of the lees, the must was transferred to used Allier oak barriques of about 200 liters each.
Fermentation progressed in the traditional way, with alternating stages until it stopped spontaneously.
This wine was bottled on June 7, 2016.
Winemaker's Notes
Color: Brilliant amber-hued yellow with golden nuances
Nose:  Fruity with apricot and dried fruit notes
Mouth: Truly elegant and refined, with good acid verve and a moderate sugar content flanked by well-balanced alcohol.  An eclectic meditation wine, perfect not only for pairing with desserts but also as an aperitif or served with ripe cheeses.
Wine Summary
Made from Malvasia Bianco (65%) and Trebbiano Toscano (35%) grapes.
Vine age- planted 2007.
Fermented in stainless steel.
Aged in French oak barrels for 5 years.
Technical Information
Clone Selection:  Malvasia Cenaia 2, Trebbiano SL30
Blend:  65% Malvasia Bianca, 35% Trebbiano Toscano
Alcohol:  15%
Total acidity:  6.3
Residual sugar:  88
Extract:  115 g/L
Product Name: Vin Santo del Chianti Classico
Producer: Castello di Ama
Importer: The Sorting Table
Country Region Appellation:

Italy
Tuscany (Toscana)
Chianti Classico

Varietal:

Trebbiano

Bottle Size:

375 ml

ALC %:

15.5