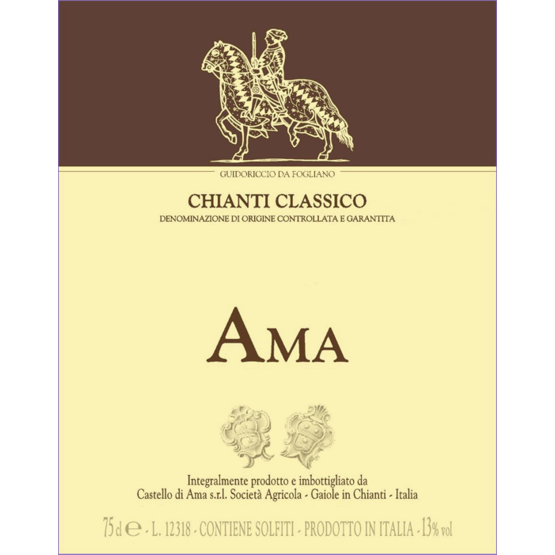 Castello Di Ama AMA Chianti Classico
Vineyard Profile
Vintage 2010 heralded the introduction of Gran Selezione and the release of our new Chianti Classico, "Ama". Ama is a blend made entirely almost with the grapes of the new clones of Sangiovese, according to our experience and the most modern technique of quality viticulture. These are planted and grown with a density of 5,200 vines per hectare in our four estate vineyards: Bellavista, Casuccia, San Lorenzo and Montebuoni, with an average age inferior to 8/10 years.
Harvest Notes
Winter has been mild and rainy.  In April, temperatures raised rapidly, while May and June have been very unstable.  Finally, summer arrived in July and we had great temperature excursions between night and day, which helped to develop aromas and flavors in the wine.  Although we had hail at the end of August, grapes were very healthy.  After several samplings and organoleptic anaylsis in the vineyars and in our laboratory, on September 26th we harvested the Merlot, the Sangiovese was harvested on October 3rd and 4th.
Fermentation was started with ambient yeasts, separately for each variety in steel tanks at controlled temperature between 30/32°, with manual pumpovers and a total cuvaison of 25 days for Sangiovese and 25 days for Merlot. After the first racking, the wine was transferred to steel tanks for malolactic fermentation.
The blending of the grape varieties took place after malolactic fermentation. 
Winemaker's Notes
Color: ruby red with vermilion hues
Aroma: fruity, red fresh fruits, cherry and raspberry
Taste: elegant and harmonic with well-balanced spicy notes already at the first impact
Wine Summary
Made from 96% Sangiovese and 4% Merlot grapes.
Vine age – planted circa 2005. Fermented in stainless steel tanks, using ambient yeasts. Aged in used barrels. Aged for about 12 months.
Technical Information
Grapes: 96% Sangiovese, 4% Merlot
Product Name: AMA Chianti Classico
Producer: Castello di Ama
Importer: The Sorting Table
Country Region Appellation:

Italy
Tuscany (Toscana)
Chianti Classico

Varietal:

Sangiovese

Color:

Red

Agricultural Standards:

Organic

ALC %:

13